Congregation Zemach Zedek was founded in 1895 in Cleveland by Menachem Mendel Madorsky soon after his arrival from Russia. The humble beginnings were in the rear of a store on East 22nd Street and Orange Avenue, near Downtown Cleveland. Today this area is the site of Cleveland's main post office.
As the Jewish community migrated further east, Zemach Zedek moved as well. At this time in Cleveland many orthodox synagogues were located in converted residential houses. Zemach Zedek moved to just such a house at East 57th and Outhwaite. Later, the synagogue relocated to Parkwood Drive in Cleveland. Major renovations of these houses often took place to accommodate the special needs of an orthodox synagogue. In its various locations Zemach Zedek was noted for its construction of a special balcony section above that surrounded the main synagogue floor where the women's section was located. Beautiful chandeliers were also commonly found in the synagogue's decor.
In 1957 Menachem Mendel's sons, Jake and Dr. Louis, purchased a small group of storefronts on Lee Road in Cleveland Heights where the synagogue has remained to this day to serve the then expanding Jewish community in this neighborhood.
During this period, many synagogues served the Jewish residents around Coventry, Mayfield, and Lee Roads. Today, Zemach Zedek is proud to be carrying on this tradition of service as the last synagogue west of Lee Road for the remaining Jewish residents in Cleveland Heights.
As the Jewish community continued moving further eastward in the 1960's and 1970's it appeared that the Lee Road neighborhood might soon be unable to support any orthodox synagogues. However, in the 1970's a dramatic reversal on the part of the Soviet Union permitted the unprecedented release of thousands of Russian Jewish families. With the help of the Jewish Community Federation and other Jewish social service agencies, a number of these families were relocated to Cleveland.
For many of these families, the Coventry-Mayfield area was their first home in their new country. Zemach Zedek quickly became their first synagogue and Zemach Zedek's Rabbi and Rebbetzin Kazen (who both spoke Russian) became their spiritual parents and teachers, offering around the clock counseling and aid and most importantly, a key to understanding the Jewish heritage and traditions that the Soviet Union had tried to erase from their lives.
The synagogue's founder, first President and Cantor, Menachem Mendel Madorsky, came from a small Russian village before the turn of the century. He left Russia as did many immigrants of this era, to escape serving in the czarist army. Leaving his wife and children in Russia, he came to Cleveland where members of his family had preceded him and took up his life's occupation as a carpenter. His family followed 1 year later. The synagogue became his treasured legacy, as he virtually lived there. The love for the Zemach Zedek, also known as, Nusach Ari Shul, was nurtured in all his children. Their active interest in maintaining its existence is evident today by the participation of his grand children and great-grand children.
After the passing of Menachem Mendel Madorsky in 1947, the legacy of the synagogue was passed on to his son Jake Madorsky who worked diligently as its President, with the help of his brothers, to uphold the tradition begun 52 years earlier. For many years, Dr. Miller served as Vice President. Later, Dr. Louis Madorsky, on the passing of his brother Jake, assumed the family tradition as the synagogue's President. His brother Dr. Sam Madorsky served as Treasurer. After Dr. Sam Madorsky's passing, Howard Madorsky, a member of the next generation, assumed the duties. Today these duties are shared by Howard and his cousin, Jay Madorsky.
In 1981, the shul as Lee Road experienced its first major expansion when the Russian Immigrant Aid Society rented the adjacent store and converted it to a social hall and library. Many synagogue functions including a weekly Kiddush, Bar Mitzvahs, Bris Milahs and other family simchas have been enjoyed there.
In 1983, Dr. Louis Madorsky and the board of Directors made arrangements to pass the legacy and traditions of the synagogue to the younger generation of congregants. Michael Hoen assumed the Presidency, Dr. Reuven Rosenstein became Vice President and Dovid Koplan zt"l became treasurer. Later Dr. Lawrence Porter assumed the duties of treasurer. Dr. Louis Madorsky retained the honored position of President Ameritus. In December of 1983, the main sanctuary of the synagogue was dedicated the "Menachem Mendel Madorsky" sanctuary by his children, grand children, and great-grand children; many of whom were present for the occasion.
Also in 1983, major interior renovations under the direction of Mr Leo Bialo and his son Shlomo took place. Complete reconstruction of the mechitza, new flooring and carpeting and the services of a professional artist to restore woodwork, Aron haKodesh, walls and ceiling were undertaken. Thanks to a grant from the original Zemach Zedek congregation, major repairs were conducted to all the Sifrei Torah to ensure their continued use.
The synagogue gratefully owes its physical existence to the sustained efforts of the Madorsky family, and the membership of the original Zemach Zedek congregation - a lifetime commitment. However, any synagogue also owes its existence to the many men, women and children who participate in its daily services and activities over the years. The spiritual existence of the synagogue -the chayus- was sustained by Rabbi and Rebbetzin Kazen who, until recently, directly oversaw all of the religious aspects for over 50 years.
Rabbi and Rebbetzin Kazen arrived in Cleveland in 1953. In Russia, Rabbi Kazen zT"l was a teacher in the underground Yeshiva movement of the Previous Lubavitcher Rebbe. Both of Rabbi Kazen's parents were imprisoned and died in Soviet prisons for spreading Torah Judaism, as was Rebbetzin Kazen's father. On their arrival in New York City after fleeing Russia at the end of World War II and living in Poland, Germany, Czechoslovakia, and France for several years, the Hebrew Immigrant Aid Society (H.I.A.S.) suggested that they and their growing family should settle in Cleveland, Ohio. Rabbi and Rebbetzin Kazen, unfamiliar with Cleveland, sought consultation and advice from the Lubavitcher Rebbe, Rabbi Menachem Mendel Schneerson in Brooklyn, New York. The Rebbe assured them that Cleveland was indeed the place for them to settle.
In Cleveland, Rabbi Kazen zT"l was directed to the Nusach Ari Shul where he met Jake Madorsky and requested permission to apply for a position as cantor for the upcoming High Holiday season. The synagogue, at this time, was located on Parkwood Drive, a three hour round trip walk for the Rabbi. It was then he discovered that he and the Madorsky family were "landsleit" (kinsmen) from Ragackov, Russia. Rabbi Kazen's father's mother was Herschel Madorsky's daughter.
It was also in Cleveland that Rabbi Kazen zT"l began to learn the trade of Shechita (ritual slaughter). In his first apartment on Kinsman Road, Rabbi Kazen zT"l was approached by a committee of men and informed that "America was different" and that it was necessary to shave one's beard and "fit in" for the sake of his family. He adamantly refused. Menachem Mendel Madorsky proudly wore a full beard his entire life as well.
Shortly after Zemach Zedek moved to Cleveland Heights, 
Rabbi Kazen zT"l purchased his home on Glenmont Road. And Rabbi Kazen zT"l proudly continued to serve the synagogue for many years.
Community service work and love for the entire Jewish community were/are hallmarks of Rabbi and Rebbetzin Kazen's life's work. While their seven children were young, Sabbath groups and community outreach work was conducted from their home on Glenmont and from the synagogue on Lee Road. Many Jewish families received their first assistance in Cleveland in their home-quietly and with dignity. No one was turned away and no task was too difficult for the Kazens to undertake on behalf of another Jew.
While their children were young, Rebbetzin Kazen was active in raising money fo the Kfar Chabad trade schools in Israel. The yearly banquets on their behalf were a fixture in the Jewish life of Cleveland in the 1950's and 1960's. Then, in the aftermath of the devastating wars in Israel, the Lubavitcher Rebbe called upon all Jews to help care for the physical and spiritual needs of the orphans of these wars. Rabbi and Rebbetzin Kazen formed a committee fo the widows and orphans of Israel in Cleveland and they began raising the much-needed funds to carry out this task.
Refugees from religious oppression in Russia themselves, Rabbi and Rebbetzin Kazen formed the Russian Immigrant Aid Society (R.I.A.S.) in the early 1970's with Dr. Henry Romberg zt"l as it's first president, to assist
with the spiritual and physical needs of the Jews from the Soviet Union. At the urging of Rebbetzin Kazen, Dr. Henry Romberg zt"l studied to become a Mohel and he was instrumental in performing hundreds of ritual circumcisions on arriving Russian Jewish men and boys who were not permitted to enter the covenant of Abraham as infants due to the harsh oppression of Jewish practices in the Soviet Union. The center of these activities was always Zemach Zedek. R.I.A.S. continues to provide a multitude of services, from a Kosher food bank, ritual circumcisions, weddings, Bar Mitzvahs, Hebrew Academy enrollment, employment, counseling, family milestones, and funerals. Every year at Pesach, Rabbi and Rebbetzin Kazen and their assistants Rabbi and Rebbetzin Kravitsky hosted Passover Seders at Zemach Zedek for the Russian immigrants and students on various college campuses, many of whom have never been to one before. Classes at Zemach Zedek conducted by Rabbi Kazen zT"l offered a unique mixture of English, Yiddish and Russian language - virtually simultaneously!
On the 13th of Tammuz 5771, July 15th 2011, our dear and cherished Rabbi, Rabbi Zalman Kazen zT"l departed in life, initiating a new chapter for Zemach Zedek.
In 1980 after studying in the Lubavitcher Rebbe's Yeshiva in Brooklyn, New York where he grew up, Rabbi Mordechai Mendelson was given the appointment as an official emissary of The Rebbe to Cleveland, Ohio. Rabbi Mendelson immediately began offering Jewish programs and classes in Jewish studies for college students at Chabad on Campus. Rabbi Mendelson also began to design and send out an authentic Jewish calendar every year to thousands of Jewish families in the Greater Cleveland area with a wealth of information pertaining to the Jewish yearly cycle and the Mitzvah (Torah commandment) campaigns that the Lubavitcher Rebbe initiated; a guide for every holiday was and is also sent out explaining the laws, customs and meanings for the holiday practices.
In 1984 Rabbi Mendelson was appointed the official emissary of The Rebbe to Cleveland Heights. Rabbi Mendelson and his growing family soon became a staple of the Zemach Zedek community. Rabbi Mendelson began to offer weekly afternoon and evening classes for adults in Torah and Jewish Mysticism at Zemach Zedek as well as many other locations throughout the City of Cleveland. Classes from introduction to Judaism to in-depth study of Chassidic philosophy attract a wide range of attendees, some who had little to no exposure to Torah and Judaism previously. Rabbi Mendelson counseled many in their spiritual and personal affairs, and continues to. The fruits of these classes sprouted the subsequent Yeshiva education of some attendees and/or their children, and the establishment of numerous observant Chassidic families.
In the spirit of spreading the light of Judaism to the world at-large Rabbi Mendelson initiated the construction and lighting of Giant Chanukah Menorahs every night of Chanukah throughout the City of Cleveland, following the guidance of The Lubavitcher Rebbe. The first Menorah was at the May Company building (now University Square) on the high-traffic corner of Cedar Road and Warrensville Center Road opposite the Cedar Center plaza. A number of years later a second over-sized Menorah was placed at the La Place Shopping Centre near the Richmond and Cedar Road expressway entrance. Rabbi Mendelson conducted community Chanukah programs in conjunction with some of the lightings of the giant Menorahs, with Cleveland News Agencies broadcasting some of these lightings to their entire viewing audience spreading the light of Chanukah further. Upon seeing one of these Menorahs someone inquired with Rabbi Mendelson about it leading them to Yeshiva study, raising an observant orthodox family and, as it turns out, joining the Zemach Zedek community.
Since arriving in Cleveland Heights Rabbi Mendelson has dutifully served as Rabbi, educator and scholar at Chabad House of Beachwood, Warrensville Center Road Synagogue and later for the establishment of Cedar Road Synagogue. Living with his wife Meira in Solon Ohio and continuing his lifelong work, Rabbi Mendelson was sought after to continue the legacy of Rabbi Zalman Kazen zT"l as the Rabbi of Zemach Zedek. Regularly making the 14 mile commute during the week and often relocating with his wife to Cleveland Heights for Shabbat, we are continually grateful to have the esteemed and distinguished Rabbi Mendelson serving as the Rabbi of Zemach Zedek.
Zemach Zedek takes pride in providing daily services three times per day for the past 119 years. Classes in Chassidic Philosophy, Mishneh Torah, Tanya, Bible, Ethics of our Fathers, and Gemorah are offered.
In the past few years Zemach Zedek has expanded once again to host the Joseph Weiner Jewish Children's Learning Center for the Jewish community in the last storefront of the Lee Road building. Thanks to a generous series of grants by Dr. Robert Weiner and family, Zemach Zedek has begun offering creative learning opportunities for Jewish children, under the inspired direction of Rabbi and Rebbetzin Elly Jacobs. In conjunction with the Tzivos Hashem organization of Cleveland, Rabbi and Rebbetzin Jacobs offer specialized Sabbath and weekday learning opportunities for Jewish children.
Zemach Zedek has been privileged to be chosen by the Mayor of Cleveland to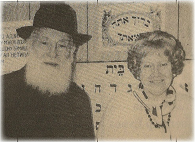 construct and light the Giant Chanukah Menorah on Public Square for each of the eight nights of Chanukah. The light supplied by the Menorah truly "lights the darkness" in today's society and is an inspiration to all who see it.
The High Holy Days at Zemach Zedek are truly a unique spiritual experience. Continuing the tradition of cantorial excellence begun by Menachem Mendel Madorsky and continued by Rabbi Zalman Kazen zT"l. Rabbi's Elly Jacobs and Avrohom Leib Greenberg have been leading the congregation in prayer for the past 20 years.
In recent years Zemach Zedek has attracted a number of student and families to its warm Yiddish atmosphere, many of whom have purchased or rented homes in the area. After all these years Zemach Zedek has continued to grow and become a vital community institution in Cleveland Heights and the congregation looks forward to share our future with this community.
Congregation Zemach Zedek is justifiably proud of being one of the oldest continually operating Lubavitch Nusach Ari synagogues in North America, as well as the oldest continually operating congregation in the City of Cleveland, and the membership looks forward to continuing the traditions that have made our small congregation one of the most dynamic and revered synagogues in Cleveland.